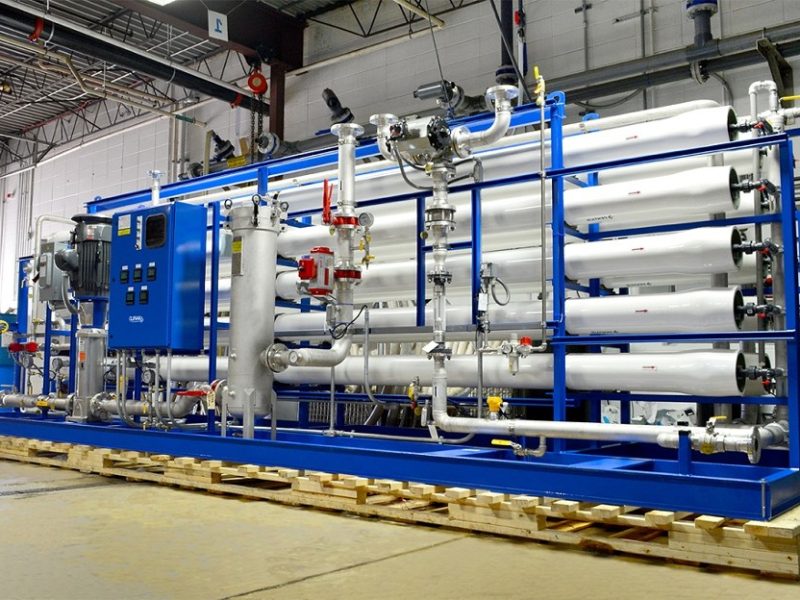 Environment
How Reverse Osmosis Systems Benefit the Environment
Reverse osmosis (RO) systems have gained immense popularity in recent years, primarily for their ability to provide clean and purified drinking water. While these systems are renowned for their effectiveness in removing impurities, many people are unaware of their positive impact on the environment.
In this article, we will explore how reverse osmosis systems contribute to environmental sustainability and why they are an eco-friendly choice for clean water.
1. Reduced Plastic Waste
One of the most significant environmental benefits of reverse osmosis systems is the reduction in plastic waste. The consumption of bottled water has been a major contributor to plastic pollution, with millions of plastic bottles ending up in landfills and oceans each year. Reverse osmosis systems eliminate the need for bottled water, as they provide an unlimited supply of clean and purified water directly from the tap. This reduction in plastic bottle usage leads to less environmental harm and a decrease in the carbon footprint associated with plastic production and transportation.
2. Conserves Water Resources
Traditional water purification methods, such as distillation and ion exchange, often require large volumes of water to operate effectively. In contrast, reverse osmosis is a highly efficient process that minimizes water wastage. RO systems use a semi-permeable membrane to filter out contaminants, allowing clean water to pass through while rejecting impurities. This technology reduces water consumption compared to some other water treatment methods, making it an environmentally responsible choice in regions where water scarcity is a concern.
3. Minimizes Chemical Usage
Many municipalities treat their tap water with various chemicals, such as chlorine and fluoride, to disinfect and improve its quality. While these chemicals are effective in purifying water, they can have adverse effects on the environment. The use of the industrial reverse osmosis system reduces the need for such chemical treatments. RO technology relies primarily on physical filtration, which eliminates the need for excessive chemical usage. This reduction in chemical discharge into the environment is a critical step toward preserving aquatic ecosystems and minimizing water pollution.
4. Energy Efficiency
Reverse osmosis systems are known for their energy efficiency. Due to the reverse osmosis membrane, they require less energy to operate compared to some other water purification techniques. This means a reduced carbon footprint and lower greenhouse gas emissions, which are essential in the fight against climate change. By choosing reverse osmosis for your water treatment needs, you can contribute to a cleaner and more sustainable planet.
5. Improved Water Quality
RO systems play a vital role in enhancing the quality of the water we consume daily. With the removal of contaminants, including heavy metals, bacteria, and chemicals, RO-treated water is not only safe but also healthier for human consumption. By providing a consistent supply of clean water, reverse osmosis systems reduce the reliance on alternative water sources that may have been treated with more environmentally harmful methods. This, in turn, contributes to improved water quality and the overall health of ecosystems.
6. Sustainable Agriculture
In addition to its benefits for drinking water, reverse osmosis systems also find applications in agriculture. Many farmers use RO-treated water for irrigation, resulting in healthier crops and improved soil quality. The absence of harmful chemicals and impurities in RO water prevents soil contamination, thereby contributing to sustainable agriculture practices. This approach not only benefits farmers but also reduces the environmental impact of conventional agricultural practices that rely on chemical-laden water sources.
7. Protecting Aquatic Ecosystems
The pollutants that enter our water systems can have severe consequences for aquatic ecosystems. Fish, plants, and other aquatic life can be negatively affected by contaminated water sources. Reverse osmosis, by removing these contaminants, helps protect and preserve aquatic ecosystems. Clean and healthy water sources are essential for maintaining biodiversity and ensuring the well-being of the planet's delicate balance of life.
Conclusion
Reverse osmosis systems offer a compelling solution to the growing environmental concerns associated with water quality and consumption. By reducing plastic waste, conserving water resources, minimizing chemical usage, and promoting energy efficiency, RO systems make a positive impact on the environment. They not only provide access to clean and safe drinking water but also contribute to a more sustainable planet.