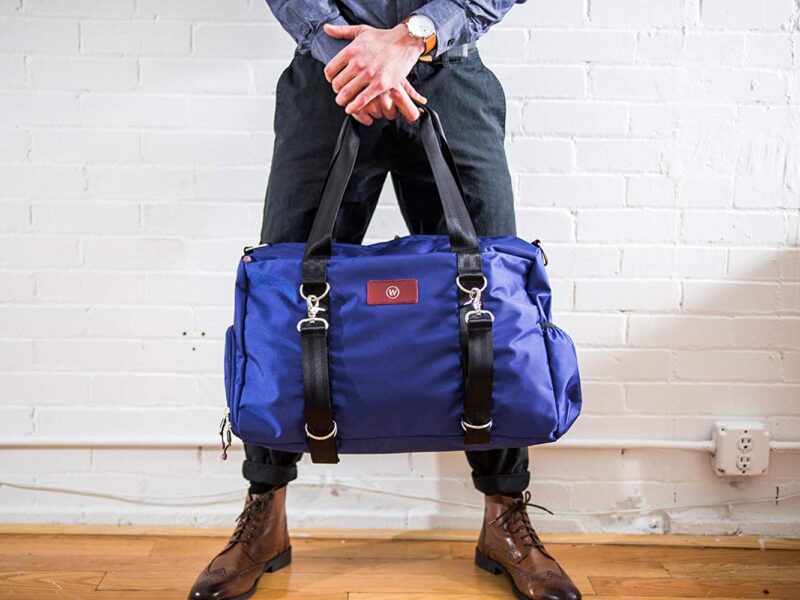 Fashion
TIPS TO CHOOSE THE RIGHT GYM BAG
Just like anything in your wardrobe, your gym bag also needs to be as perfect. It is another extension of your unique style and many people find it difficult to get a best gym bag for them. The one who goes to the gym regularly, wants a perfect gym bag to pack up all the essentials. It is a fairly routine procedure and you must buy a gym bag that is easy to just pick up and go. Here are the tips to choose a perfect gym bag:
Functionality
While looking for a gym bag, functionality is important. You must look for a bag that allows you to separate your toiletries from other things. The bag must have a separate compartment to keep your clean clothes away from other things. You must buy a best Gym Bag with a Shoes Compartment so you can keep them separate from other things. The compartment provides organization which is the key element to all bags. The bag must be the one that carries everything as efficiently as possible.
The compartment is another added feature in gym bags that you must consider. Imagine if you're prone to heavy sweating, a bag with a special interior sack can help to keep your wet clothes.
Storage Space
Storage space is the major key when it comes to selecting a gym bag. Some guys take a 'bigger is better' approach and often end up with a shapeless sack full of unordered things. The proper gym bag should be able to hold a water bottle, a pair of sneakers, workout clothes, and other things separately. The size of the gym bag must be enough so that it can fit into any gym locker.
Material Used in the Manufacturing
The style of the bag is as important as storage space, and functionality. You need to kick away the mindset that your gym bag is just a 'gym bag', and take your entire lifestyle up to a new plateau, with the right gym bag. The market has evolved so many gym bags and you can get them in different materials. Most popular gym bags are cotton canvas or Nylon. These are pretty much the go-to materials when it comes to a decent quality, long-lasting, and inexpensive gym bag. It is strongly advised to go for canvas bags as they are easy to clean. Many people also go for leather bags as they look elegant but they are costly. Cotton and nylon are good choices. They're highly durable and available in a variety of colors and styles to suit your preferences.
Proper Care
It may sound funny, but after a long workout we all want to go to bed and take a rest. But you need to take the following steps and it is important to remember these things:
o        As soon as you reach home, take wet, sweaty clothing out of your bag. This is important as moisture will corrode the material of both your clothing and your bag.
o        To keep odor in control, you can buy an organic scent sponge. You can throw it into your bag and this will help with absorbing any excess moisture and scent.
o        It is important to wash your bag at least once a month and wipe it with a clean cloth every day.
You need to give some time of yours to look for the right combination of materials, functionality and looks for the gym bag. Get the bag with enough storage space, but not too much. Functionality is a major thing and there need to be multiple interior pockets that suit your needs. Although cotton, canvas, and nylon are the best materials, it is better to go for canvas.
A canvas backpack comes with many usages and it is one of the most versatile types of bags.  Canvas bags are strong, flexible, lightweight, and fashionable. A canvas gym bag can also be used for other purposes such as hiking, camping. They can be used to carry large amounts of supplies to be carried for long periods of time. Choose a Best Backpack for gym and work that is quite large with thick straps to distribute weight away from the shoulders.