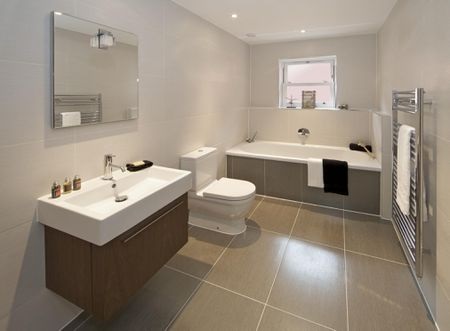 Featured
Why Ceramic Tiles are Ideal for Bathrooms
Are you planning to redesign your bathroom and wondering where to start in terms of wall and flooring options? If so, ceramic might be the right solution for you. Ceramic is used in bathrooms across the globe because of its practical and aesthetic benefits. This article explores the reasons why ceramic tile is right for bathrooms:
Resistance to Water, Damp and Steam
When it comes to bathroom tiles, choosing a water-resistant material is essential because of the wet and humid conditions associated with the space. Thankfully, glazed ceramic tile comes with a protective layer that is impervious to water and stains. 
Suitability for Heated Floors or Walls
Céramique au Sommet tiles in Laval are perfect for heated floors or walls. Their great heat conductivity allows for an exceptional performance of heating systems. Such performance is higher than what is obtained using other insulating materials that create a barrier to the passage of heat.
Durability
Unlike some kinds of tile, ceramic flooring is quite durable and will not crack because of daily wear and tear. When professionally installed and properly maintained, it can last a decade or two. Plus, if you have to replace a ceramic tile, the process is always a breeze.
Low Maintenance
Ceramic tiles are easy to clean, making maintenance a simple chore. They do not facilitate the development of bacteria, is non-absorbent, and does not deteriorate. They resist any kind of chemical. Everyday cleaning can be done using just warm water. But, if deep-down cleaning is necessary, it is fine to use aggressive detergents or strong cleaning methods without risking damage. 
Availability
Ceramic tiles come in a variety of sizes and shapes. Sizes range from 10cm x 10 cm tiles to big format 60cm x 120 cm options. They are also available in a wide assortment of accessories and trim pieces. Their versatility allows them to fulfill any aesthetic and technical requirements. They come in various colors, patterns, and surface textures. It is possible to produce them to replicate the look of hardwood or other natural stones. Also, they can be cut and shaped into various designs like triangles, plans, and circles.
Affordability
Compared to other tiles, like porcelain, ceramic tiles are affordable without compromising on style and practicality. The long-term value they bring to your bathroom makes it especially cost-effective. Their durability itself justifies the initial cost of the material and its installation because the tile can increase the resale value of your home, letting you see a good return on your investment.