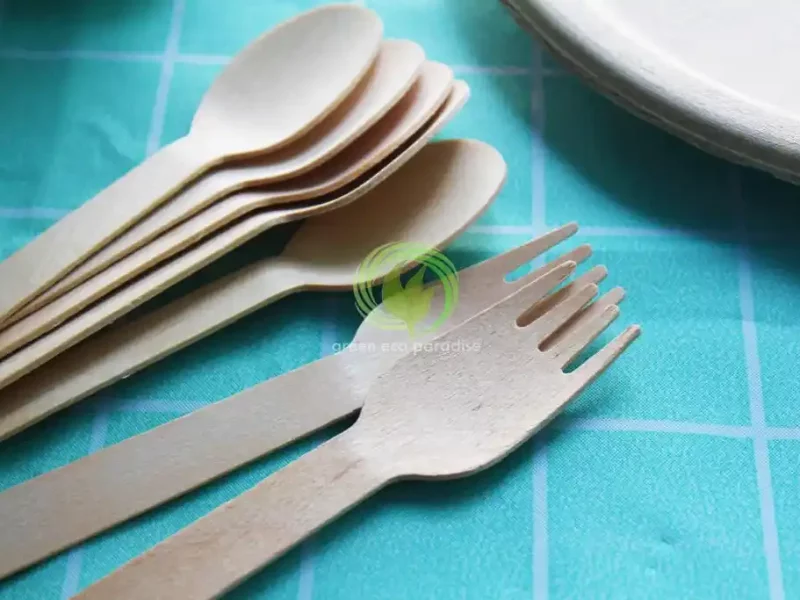 Green Living
From Forks to Spoons: The Rise of Biodegradable Disposable Cutlery
Single-use plastic cutlery has become a major environmental issue around the world, with billions of pieces ending up in landfills and oceans every year. However, biodegradable disposable cutlery offers a solution to this problem that is both practical and environmentally conscious. In recent years, there has been an increasing trend towards the use of biodegradable forks, knives, spoons and other utensils – not just in restaurants and cafes but also at parties, picnics, food fairs and festivals everywhere. This article explores the rise of biodegradable disposable cutlery as a sustainable alternative to traditional plastic utensils by examining its benefits for our planet's health and exploring some innovative options available on the market today.
The Environmental Impact of Plastic Cutlery
Single-use plastic cutlery has a significant impact on the environment, with massive amounts ending up in landfills and oceans every year. According to estimates, around 40 billion pieces of plastic utensils are used and discarded each year in America alone, adding to the already alarming levels of plastic pollution. These cutlery items take years to degrade and release toxic chemicals that contaminate soil and water sources.
Thankfully, there is an alternative solution emerging for this environmental crisis – biodegradable disposable cutlery. Biodegradable disposable spoons, forks, knives, – made from plant-based materials such as cornstarch or even avocado pits – have gained popularity as they break down into organic matter within months instead of taking decades or centuries like plastic does. This sustainable innovation not only reduces waste but also minimizes carbon emissions during production. Restaurants and food establishments have increasingly been switching over to biodegradable alternatives while more people opt for them at outdoor events such as picnics or barbecues; steadily creating a greener future for all.
The Advantages of Biodegradable Disposable Cutlery
Biodegradable disposable cutlery offers several advantages over traditional plastic utensils. Firstly, it is a more environmentally friendly option as it breaks down naturally and does not contribute to the buildup of non-biodegradable waste in landfills or oceans. Secondly, biodegradable cutlery can be made from renewable materials such as corn starch, sugarcane fiber, or bamboo which are sustainable alternatives to petroleum-based plastics used in conventional plastic cutlery. These materials have a much lower carbon footprint than petroleum-based plastics and reduce dependency on non-renewable resources.
Another key advantage of biodegradable disposable cutlery is convenience. It provides an easy-to-use solution for events where dishwashing facilities may not be available and saves time compared to washing up after meals with traditional dishes and silverware. Biodegradable disposables are also safe for use with hot foods; they do not melt or release harmful chemicals into food when heated unlike some conventional plastics which can contain toxins that leach out at high temperatures. All these factors make biodegradable disposable cutlery a practical option for sustainable dining choices at home or away from home including picnics, outdoor events, restaurants or cafes aiming towards eco-friendliness while reducing their environmental footprints.
The Future of Sustainable Cutlery: Innovations and Challenges
The future of sustainable cutlery looks increasingly promising, with innovations in biodegradable materials driving positive change. Biodegradable alternatives are becoming more widely available and cost-effective as the market grows, providing an accessible solution to the problem of single-use plastic waste. However, challenges still remain in terms of consumer education and changing habits around waste disposal practices.
As progress continues in the development of new technologies for creating biodegradable materials, there is a growing need for greater awareness-raising about these alternatives among consumers and businesses. Individuals must be informed not only about why they should switch to sustainable cutlery but also how best to dispose of it properly after use. Efforts by governments and non-profit organizations focusing on regulating wasteful practices will continue to play a critical role in reducing environmental harm caused by plastic pollution. Through collaborative efforts from all sectors involved, transitioning away from harmful plastics towards environmentally-friendly alternatives will pave way towards a more sustainable future for everyone involved including individuals and businesses alike.