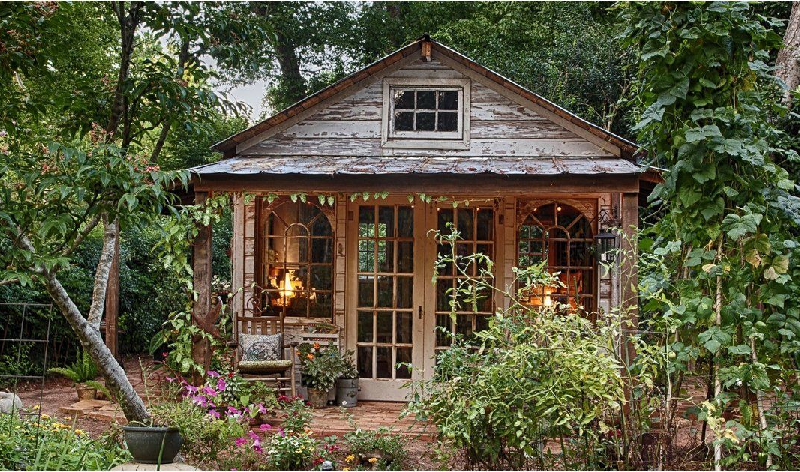 To buy "ready to assemble", or to design and build by yourself, or by a company, the garden shed is a simple solution to create a new space. To know which solution to adopt, and which approach to accomplish, it will first be necessary to define its use.
Will there be additional storage space?
A gardening or even DIY workshop?
Or a real place to live?
The floor area and volume of the shelter chosen will depend on its end use, and vice versa:
To store garden tools, a mower, a few bicycles: a floor area of ​​6 m2 will be more than sufficient
Store garden tools and set up a DIY workshop there: a floor area of ​​6 to 14 m2 will be necessary
Fit out an extra bedroom, a summer kitchen, or an office: not only an area of ​​14m2 will be the minimum but also a height of 2.20m under the ceiling to be able to stand at ease will be required
The legal aspect?
The use and the surface will determine whether or not a building permit is required but not only. This will depend on 3 criteria: the geographical location of the garden shed, the surface area and the height. Here are the rules:
Authorization required (outside of safeguarded sectors and classified sites):
Surface of the garden shed:
Floor area and footprint ≤ 5 m2
Height ≤ 12m: no authorization
Height> 12 m: prior declaration of work
Floor area or footprint between 5 m2 and 20 m2
Height ≤ 12m: prior declaration of work
Height> 12 m: building permit
Floor area or footprint> 20 m2
Height ≤ 12m: building permit
Height> 12 m: building permit
Note:  regardless of the approach to be taken, you must also consult the local urban planning plan (PLU) or any local urban planning regulations in order to obtain information on the location of the shelter on the ground, usable building materials. You can click here for the best result now.
Definitions:
Floor area: Sum of closed and open floor areas, under a ceiling height greater than 1.80m, calculated from the interior bare of the building facades, thus excluding the thicknesses corresponding to the insulation.
Footprint: Vertical projection of the building volume, all overhangs and overhangs included (balcony, etc.). Marquise-type ornaments are excluded, as well as roof overhangs not supported by posts or corbels.
The prior declaration is an administrative act which gives the administration the means to verify that your construction project complies with the town planning rules in force. It is generally required for the realization of minor development.
With regard to the choice of the garden shed and its configuration, everything is a matter of how you are going to use it. If you want a multipurpose shed that requires minimal maintenance, choose a PVC or resin shed . With a hose, you will have it clean in a moment. And if it is also in a region where it rains a lot, it will not be damaged and you will have a house for a long time.